Info:
Name: Who's Afraid of Virginia Woolf?
Release date: 1966
Genre:
IMDB: 8,1/10
Directed by:
Mike Nichols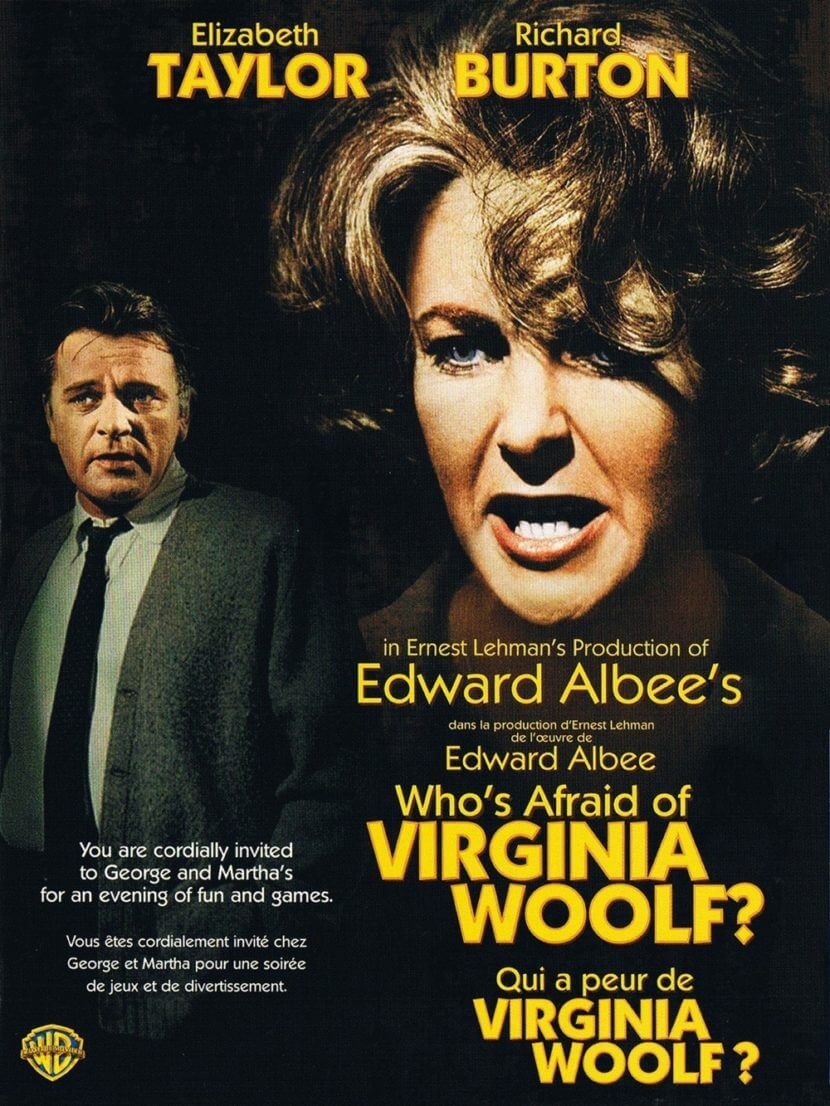 Vote:
Who's Afraid of Virginia Woolf? is a 1966 American black comedy–drama film directed by Mike Nichols. The screenplay by Ernest Lehman is an adaptation of the play of the same title by Edward Albee. The film stars Elizabeth Taylor as Martha and Richard Burton as George, with George Segal as Nick and Sandy Dennis as Honey.[2]
The film was nominated for thirteen Academy Awards, including Best Picture and Best Director for Mike Nichols, and is one of only two films to be nominated in every eligible category at the Academy Awards (the other being Cimarron). All of the film's four main actors were nominated in their respective acting categories.
The film won five awards, including a second Academy Award for Best Actress for Elizabeth Taylor and the Academy Award for Best Supporting Actress for Sandy Dennis. However, the film lost to A Man for All Seasons for the Best Picture, Best Director, Best Actor and Best Adapted Screenplay awards, and both Richard Burton and George Segal failed to win in their categories.
In 2013, the film was selected for preservation in the United States National Film Registry by the Library of Congress as being "culturally, historically, or aesthetically significant".[3]
source: https://en.wikipedia.org/wiki/https://en.wikipedia.org/wiki/Whos_Afraid_of_Virginia_Woolf

Tags: 1966, Elizabeth Taylor, George Segal, Mike Nichols, Richard Burton, Sandy Dennis