Info:
Name: Upgrade
Release date: 2018
IMDB: 7,6/10
Directed by:
Leigh Whannell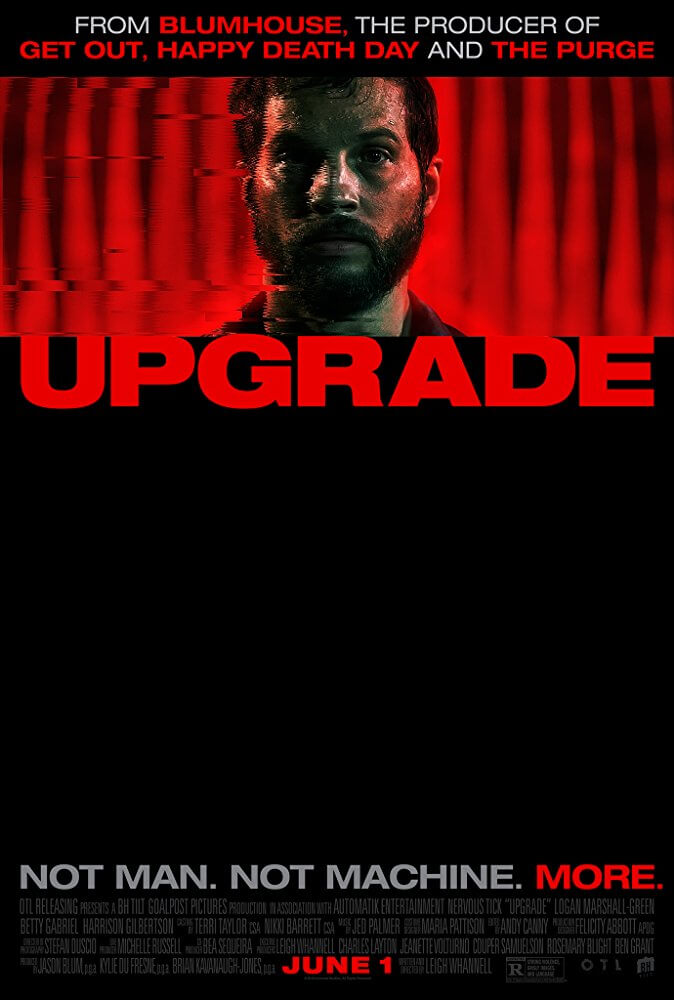 Vote:
Upgrade is a 2018 cyberpunk action body horror film written and directed by Leigh Whannell and starring Logan Marshall-Green, Betty Gabriel, and Harrison Gilbertson. The film follows a man who is implanted with a chip that allows him to control his body after a mugging leaves him paralyzed. The film was produced by Jason Blum, under his Blumhouse Productions banner.
After premiering on 10 March 2018 at South by Southwest, the film was released on 1 June 2018 in the United States by OTL Releasing and Blumhouse Tilt, and on 14 June 2018 in Australia. The film received positive reviews from critics, who called it "one part The Six Million Dollar Man, one part Death Wish revenge fantasy", and praised the film's dark humor and action sequences.
Upgrade
Movie Rating: 7.3 out of 10
Tagline: Not man. Not machine. More.
Genres: Action, Thriller, Science Fiction
Production Companies: Goalpost Pictures, Blumhouse Productions, Automatik Entertainment, Nervous Tick, Film Victoria
Release date: June 01, 2018
Budget: 5000000 $
Movie Overview:
A brutal mugging leaves Grey Trace paralyzed in the hospital and his beloved wife dead. A billionaire inventor soon offers Trace a cure — an artificial intelligence implant called STEM that will enhance his body. Now able to walk, Grey finds that he also has superhuman strength and agility — skills he uses to seek revenge against the thugs who destroyed his life.
Tags: 2018, Betty Gabriel, Harrison Gilbertson, Leigh Whannell, Logan Marshall-Green