Info:
Name: The Mist
Release date: 2007
IMDB: 7,2/10
Directed by:
Frank Darabont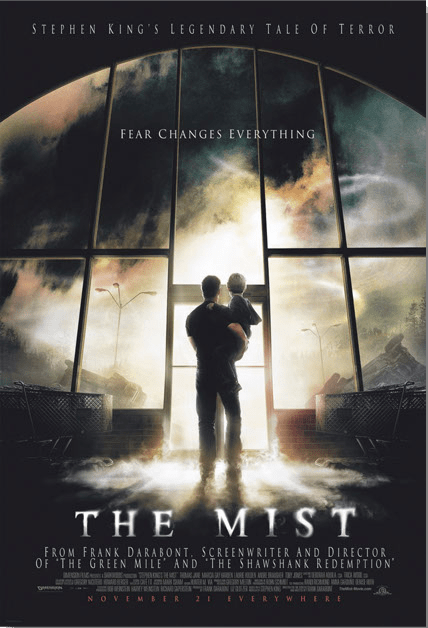 Vote:
The Mist (also known as Stephen King's The Mist) is a 2007 American science fiction horror film based on the 1980 novella of the same name by Stephen King. The film was written and directed by Frank Darabont, who had previously adapted King's works The Shawshank Redemption (1994 film based on the 1982 novella) and The Green Mile (1999 film based on the 1996 novel). Darabont had been interested in adapting The Mist for the big screen since the 1980s. The film features an ensemble cast including Thomas Jane, Marcia Gay Harden, Samuel Witwer, Toby Jones, and future The Walking Dead actors Jeffrey DeMunn, Juan Gabriel Pareja, Laurie Holden, and Melissa McBride.
Filming for The Mist began in Shreveport, Louisiana, in February, 2007. The film was commercially released in the United States and Canada on November 21, 2007; it performed well at the box office and received generally positive reviews. Darabont has since revealed that he had "always had it in mind to shoot The Mist in black and white", a decision inspired by such iconic films as Night of the Living Dead (1968) and the "pre-color" work of Ray Harryhausen. While the film's cinematic release was in color, the director has described the black and white print (released on Blu-ray in 2008) as his "preferred version."[3]
The director revised the ending of the film to be darker than the novella's ending, a change to which King was amenable. Darabont also sought unique creature designs to differentiate them from his creatures in past films.
Although a monster movie, the central theme explores what ordinary people will be driven to do under extraordinary circumstances. The plot revolves around members of the small town of Bridgton, Maine who, after a severe thunderstorm causes the power to go out the night before, meet in a supermarket to pick up supplies. While they struggle to survive an unnatural mist which envelops the town and conceals vicious, otherworldly monsters, extreme tensions rise among the survivors.
source: https://en.wikipedia.org/wiki/The_Mist_(Film)
Tags: 2007, Frank Darabont, Thomas Jane