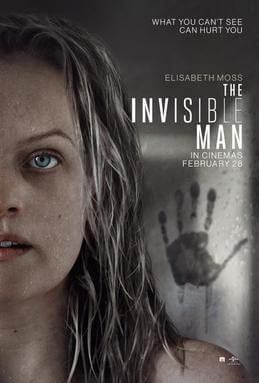 Want more Movies with a Plot Twist?
The Invisible Man is a 2020 science fiction horror film written and directed by Leigh Whannell. It follows a woman who believes she is being stalked by her abusive and wealthy boyfriend even after his apparent suicide. She ultimately deduces that he has acquired the ability to become invisible. The film stars Elisabeth Moss, Aldis Hodge, Storm Reid, Harriet Dyer, Michael Dorman, and Oliver Jackson-Cohen. It is an international co-production of the United States and Australia.
The development of a new film based on H. G. Wells's 1897 book began as early as 2006. The project was revived as part of Universal's shared cinematic universe in 2016, intended to consist of their classic monsters, with Johnny Depp attached to star in the title role. After The Mummy was released in 2017 to critical and financial failure, development was halted on all projects. In early 2019, the studio changed their plans from a serialized universe to films based on individualized story-telling and the project reentered development. Principal photography lasted from July to September 2019 in Sydney, Australia.
The Invisible Man was released in the United States on February 28, 2020, by Universal Pictures. The film received positive reviews from critics, with praise for Moss' performance, its inventive modernization of the novel's plot, and the combination of scares with "a smart narrative about how people can be manipulated and abused in harmful relationships". The film grossed $132 million worldwide against a $7 million budget and is currently the fifth highest-grossing film of 2020. Due to the COVID-19 pandemic closing theaters across the world, Universal announced the film would be made available for digital rental just four weeks after it was released theatrically.
source: wiki
Click to rate this Movie!
Want more Movies with a Plot Twist?
You Like this Movie? Share it!