Info:
Name: Sweeney Todd: The Demon Barber of Fleet Street
Release date: 2007
IMDB: 7,4/10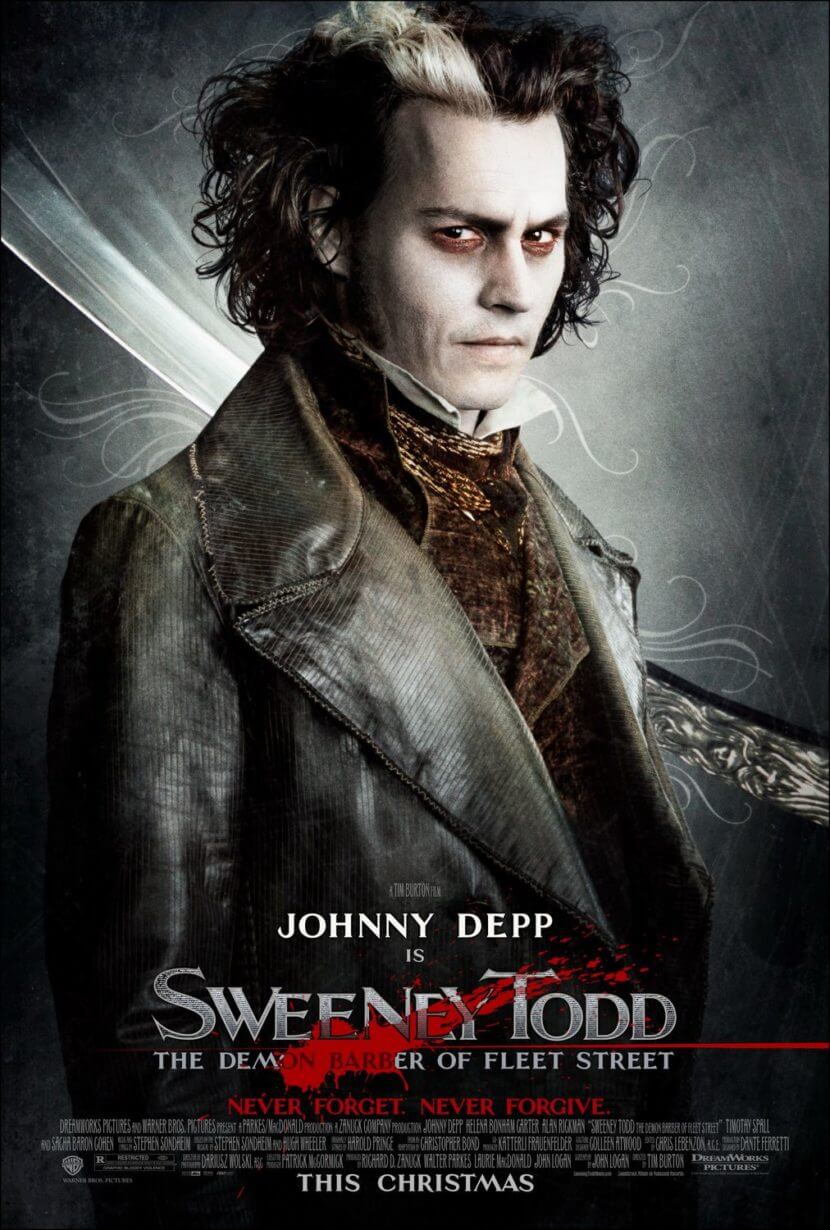 Vote:
Sweeney Todd: The Demon Barber of Fleet Street is a 2007 British-American musical horror[4] film directed by Tim Burton. It is an adaptation of Stephen Sondheim and Hugh Wheeler's Tony Award-winning 1979 musical of the same name and re-tells the Victorian melodramatic tale of Sweeney Todd, an English barber and serial killer who murders his customers with a straight razor and, with the help of his accomplice, Mrs. Lovett, processes their corpses into meat pies.
Having been struck by the cinematic qualities of Sondheim's musical while still a student, Burton had entertained the notion of a film version since the early 1980s. However, it was not until 2006 that he had the opportunity to realize this ambition, when DreamWorks announced his appointment as replacement for director Sam Mendes, who had been working on such an adaptation. Sondheim, although not directly involved, was extensively consulted during the film's production.
The film stars Johnny Depp as Benjamin Barker / Sweeney Todd and Helena Bonham Carter as Mrs. Lovett. Depp, not known for his singing, took lessons in preparation for his role, which producer Richard D. Zanuck acknowledged was something of a gamble. However, Depp's vocal performance, despite being criticized as lacking certain musical qualities, was generally thought by critics to suit the part (see Music section below).
Sweeney Todd: The Demon Barber of Fleet Street was released in the United States on December 21, 2007, and in the United Kingdom on January 25, 2008, to largely enthusiastic reviews. The film won a number of awards, including the Golden Globe Award for Best Motion Picture – Musical or Comedy, the Golden Globe Award for Best Actor – Motion Picture Musical or Comedy and the Academy Award for Best Art Direction. Helena Bonham Carter was nominated for a Golden Globe Award for Best Actress – Motion Picture Musical or Comedy, and Johnny Depp was also nominated for an Academy Award for Best Actor. Although not an outstanding financial success in the U.S., it performed well worldwide, and has spawned a soundtrack album and various DVD releases.
source: https://en.wikipedia.org/wiki/Sweeney_Todd:_The_Demon_Barber_of_Fleet_Street
Tags: 2007, Alan Rickman, Helena Bonham Carter, Johnny Depp, Sacha Baron Cohen, Tim Burton, Timothy Spall