Info:
Name: Regression
Release date: 2015
IMDB: 5,7/10
Directed by:
Alejandro Amenábar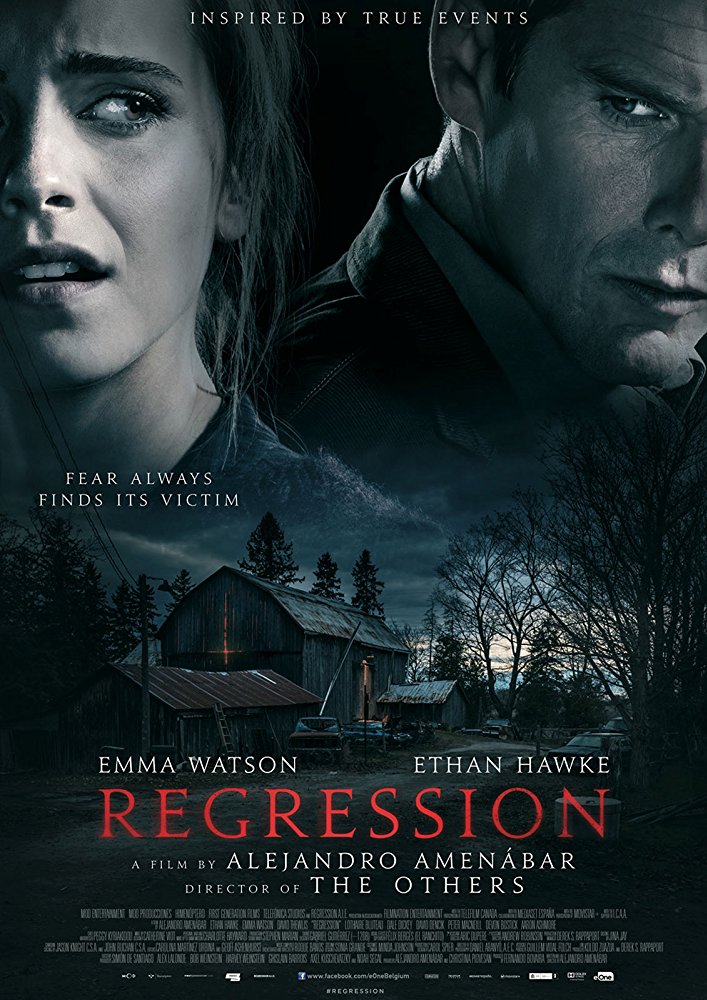 Vote:
Regression is a 2015 Canadian-Spanish-American psychological thriller mystery film directed, produced and written by Alejandro Amenábar. The film stars Ethan Hawke and Emma Watson, with David Thewlis, Lothaire Bluteau, Dale Dickey, David Dencik, Peter MacNeill, Devon Bostick and Aaron Ashmore in supporting roles.
The film had its world premiere at the San Sebastián International Film Festival on September 18, 2015.
source: wiki
Regression
Movie Rating: 5.5 out of 10
Tagline: Fear always finds its victim
Genres: Horror, Mystery, Thriller, Crime
Production Companies: The Weinstein Company, Himenóptero, First Generation Films, Mod Producciones, FilmNation Entertainment, Telefónica Studios
Release date: October 01, 2015

Movie Overview:
Minnesota, 1990. Detective Bruce Kenner investigates the case of young Angela, who accuses her father, John Gray, of an unspeakable crime. When John unexpectedly and without recollection admits guilt, renowned psychologist Dr. Raines is brought in to help him relive his memories and what they discover unmasks a horrifying nationwide mystery.
Tags: 2015, Aaron Ashmore, Alejandro Amenábar, Dale Dickey, David Dencik, David Thewlis, Devon Bostick, Emma Watson, Ethan Hawke, Lothaire Bluteau, Peter MacNeill