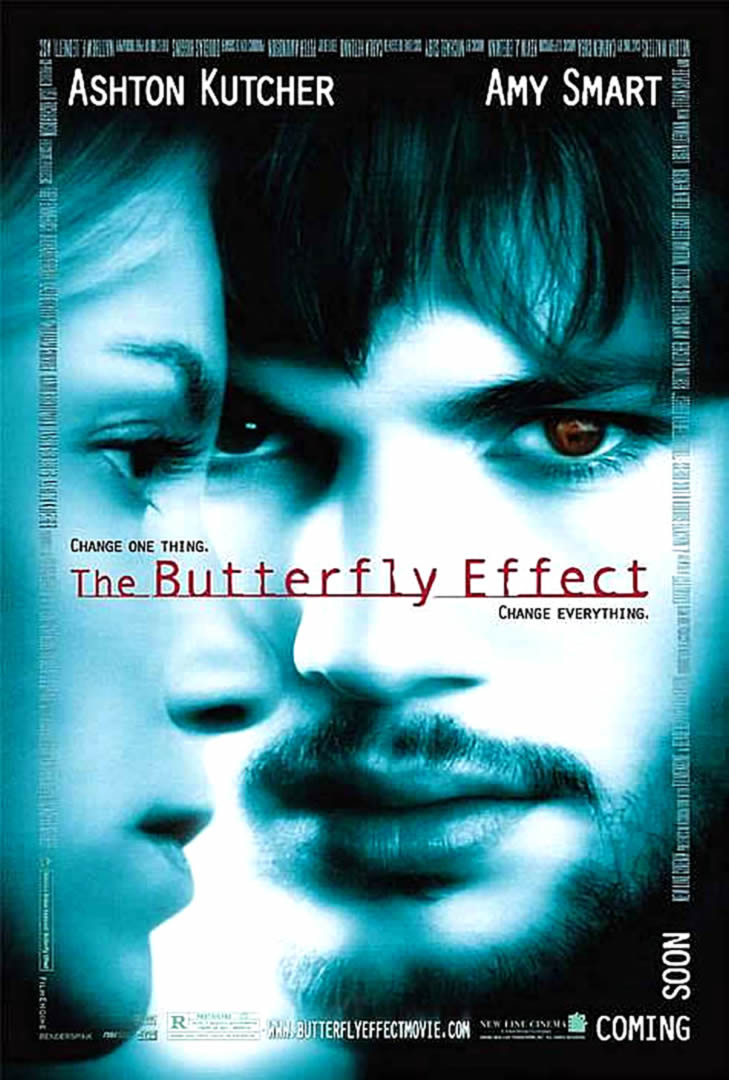 Want more Movies with a Plot Twist?
The Butterfly Effect is a 2004 American psychological thriller film that was written and directed by Eric Bress and J. Mackye Gruber, starring Ashton Kutcher and Amy Smart. The title refers to the butterfly effect, a popular hypothetical example of chaos theory which illustrates how small initial differences may lead to large unforeseen consequences over time.
Kutcher plays 20-year-old college student Evan Treborn, with Amy Smart as his childhood sweetheart Kayleigh Miller, William Lee Scott as her sadistic brother Tommy, and Elden Henson as their neighbor Lenny. Evan finds he has the ability to travel back in time to inhabit his former self (that is, his adult mind inhabits his younger body) and to change the present by changing his past behaviors. Having been the victim of several childhood traumas aggravated by stress-induced memory losses, he attempts to set things right for himself and his friends, but there are unintended consequences for all. The film draws heavily on flashbacks of the characters' lives at ages 7 and 13, and presents several alternate present-day outcomes as Evan attempts to change the past, before settling on a final outcome.
The film received a poor critical reception, but was nevertheless a commercial success, producing gross earnings of $96 million from a budget of $13 million. The film won the Pegasus Audience Award at the Brussels International Fantastic Film Festival, and was nominated for Best Science Fiction Film at the Saturn Awards and Choice Movie: Thriller in the Teen Choice Awards.
Eric Bress, J. Mackye Gruber
Want more Movies with a Plot Twist?
You Like this Movie? Share it!